Ready to embrace sustainable mobility for your organization ?
An electric bike hire service that adapts to your needs
Within the first 150 kilometers, HOOBA makes the first adjustments required for a comfortable and pleasant use of your vehicles.
MAINTENANCE
In collaboration with vehicle suppliers, HOOBA defines an optimal maintenance plan and ensure its application for flawless use of your vehicle fleet.
REPAIRS
In case of failures, the user can easily report the problem via the application. HOOBA takes appropriate actions to restore and maintain your fleet of vehicles.
HOOBA assists you in designing your parking area to ensure the safety and accessibility of users.
Space optimization
Minimize space wastage by optimizing the available area in your parking.
Space optimization
Security
Create a perfectly secure parking area for your users.
Security
Organization
Establish an efficient and secure storage area for vehicles and accessories.
Organization
Accessibility
Ensure the accessibility and visibility of the area for comfortable use of your fleet.
Accessibility
Simplify your management with

our integrated systems
Providing a mobile application for users
Connected locks
Usage statistics
Complete and automated management of your bike fleet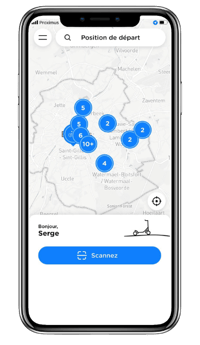 For all driving styles
A wide selection of electric vehicles
Bicycles, scooters, cargo bikes, customized options - we offer you a wide range of electric vehicles to suit your driving preferences.
Key figures
Potential gains
These figures are provided per year and per bike.
200 kg
of CO2 emissions saved
700-2.500€
of euros saved
Digital offer & Vehicle purchase
Digital offer, Vehicle leasing & Peace of mind
Not convinced yet ?
We can come to your location for a demonstration of our solutions and customize all your requests.